ESTEEM3 Lunchtime lecture at Microscopy Conference 2023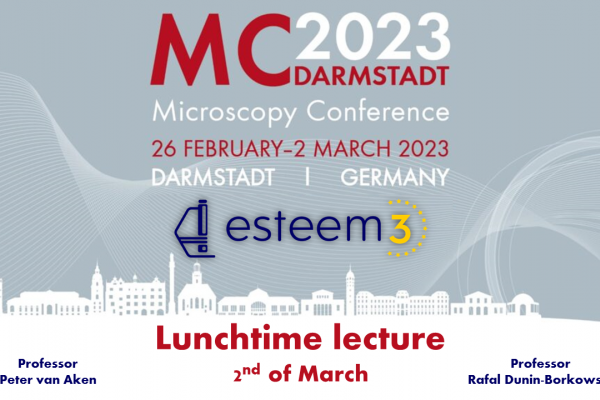 ESTEEM3 is giving a lunchtime lecture at the Microscopy Conference 2023 in Darmstadt (Germany).
Lunchtime lecture
On March 2nd, professor Peter van Aken and professor Rafal Dunin-Borkowski will be presenting the ESTEEM3 project. The lunchtime lecture will be held in Spectrum A, from 12:45 to 13:45.
Professor Peter von Aken is the coordinator of ESTEEM3 project. Currently, he is the President of the German Society for Electron Microscopy and the Head of the Stuttgart Center for Electron Microscopy.
Professor Rafal Dunin-Borkowski is the Director of the Institute for Microstructure Research at the Research Center Julich. His institution played a key role within ESTEEM3 project.
Firstly, Peter van Aken, will give an overview of the ESTEEM3 project, and then, Rafal Dunin-Borkowski will present to you the research outputs of the project, as well as its sustainability routes.
At this luchtime lecture, you will have the occasion to ask questions about the project.
We hope you'll enjoy this lunchtime lecture!
ESTEEM3 Final Infoday
Last but not least, as ESTEEM3 is coming to an end, the project consortium invites you to its Final Infoday on Wednesday 31st May 2023 in Paris or remotly.