ESTEEM3 interviews: Prof. Sara Bals from EMAT-University of Antwerp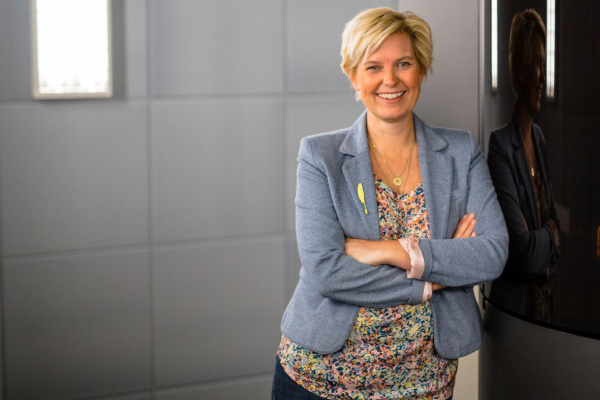 Sara Bals is a full professor at EMAT, the research group on Electron Microscopy for Material Science of the University of Antwerp, Belgium. Her main research focuses on the application and further development of electron tomography for advanced nanostructured materials.
With her outstanding career, she recently received the European Microscopy Award 2020. In this interview, she explains her background but also her role and views about ESTEEM… in which she is involved since the very beginning!
Question: Tell us a bit about your background
I grew up in Antwerp, Belgium, where I also studied. I started my career in Electron Microscopy under the supervision of Staf Van Tendeloo, with whom I did both my Master's thesis and PhD on superconducting materials. Then, I went to the National Center for Electron Microscopy at the Lawrence Berkeley National Laboratory in California where the team wanted to start working on Electron Tomography, which was already popular at that time in the field of Biology. After reading a publication by Paul Midgley, also a partner in the ESTEEM projects we started doing electron microscopy experiments and designed our own tomography holder.
After Berkeley, I returned to Antwerp to take back a Postdoc position at EMAT in electron microscopy. In 2007, I got a permanent position, so I could start my own "little" research group. An important milestone in my career was when I was awarded an ERC Starting Grant on "Colouring Atoms in 3 Dimensions". I enjoyed it so much that I also applied for an ERC Consolidator Grant - which was also awarded and is still ongoing – to combine electron tomography techniques with in situ techniques. I am currently also the spokesperson of EMAT. We have now 6,5 professors in the group with different expertise, and since we work together a lot, we can combine the expertise. And that's very powerful.
Q: Why did you decide to take part in the project?
At EMAT, we have a long history with ESTEEM! EMAT, with Staf Van Tendeloo, was indeed coordinating ESTEEM1. At that time, I was a Postdoc researcher, and it was a very good opportunity to learn and get in touch with all of the "stars" of electron microscopy. So, it was a rewarding time, to be at meetings and meet all those people we had known previously only from names on publications.
In ESTEEM2, which was coordinated by CEMES-CNRS, we I was Work Package Leader of a Joint Research Activity on tomography and holography and Jo Verbeeck was Leader of the spectroscopy work package. I got familiar with other aspects of such a large project, like writing deliverables and reports, doing presentations, being responsible of a group a people to jointly work on this project… which was very interesting.
Q: What is your role in ESTEEM3?
In ESTEEM3, I am contributing to WP9 which deals with Materials for Health, by using electron tomography techniques to investigate nanomaterials with possible applications for health. I enjoy that, by doing fundamental science, one can help developing better materials for health, which is very rewarding. So, I'm not as involved in ESTEEM3 as I was in ESTEEM2, but I still really enjoy going to meetings with colleagues that we have known for quite a while: 14 years!
I am also the coordinator for Transnational Access in EUSMI (European Soft Material Infrastructure), another Horizon 2020 project. So, we decided to divide the work with my colleague Jo Verbeeck, who is much more involved in ESTEEM3. But the project remains very important to me! It started with a very small core group which grew bigger and bigger. The focus of the project has also evolved: there is now much more emphasis on Transnational Access.
Q: You have a very long history with ESTEEM! What do you prefer in this specific project?
Usually, researchers enjoy more the joint research activities, because this is where you develop new things together. But I also like the Transnational Access a lot! Through this activity, you reach out more to the material science community. Applying to a TA project means to solve a problem which cannot be solved initially. Applicants have maybe tried to use Electron Microscopy at their labs but they are stuck. So, in a way, they are giving you their challenges with, sometimes, their best ideas and best materials, and you have the privilege of solving that together with them. There is nothing more that I enjoy: to push a technique further to answer a specific question in material science.
Q: What success has already been achieved within your task? What are the most promising steps in terms of results?
I enjoy a lot working on electron tomography for nanomaterials. During the most recent meeting that we had in Toulouse, I was very proud to be able to present some results we had obtained on EELS tomography, which is a combination of two already quite advanced techniques. It enabled us to reveal the structure of iron oxide phases: there was a core and a shell that were a bit different from each other. Such an information is of great importance to optimize these materials towards their use for health.
I am also looking forward to using a technique that I am developing through my ERC grant "REALNANO", for example heating tomography which could be applied to materials for health in ESTEEM3. We have recently developed a technique where we can heat nanomaterials that are sometimes used for medical application because of their 3-dimensional shape. But if you heat them during such a treatment and they lose their shape, they cannot be used anymore. This is something I have developed within REALNANO and I really would like to apply these techniques to investigate samples in WP9.
Q: What do you expect for the future of the project?
What I would love to see in the future of ESTEEM3 is how the interaction between Joint Research and Transnational Access activities can lead us to understand what would be the techniques of the future: what people in material science need, what kind of directions do they envision and how can electron microscopy help with that. I think that is an important question which would be interesting to answer with the entire consortium.
It is a unique consortium with so many different fields of expertise from the different groups. Some people are really good in spectroscopy, others in holography. Some groups have a closer focus on material science, others on techniques. The companies, of course, are also very important since they might get ideas to develop novel products. So, if there is a group of experts sitting together who can really determine the future of electron microscopy, it is ESTEEM.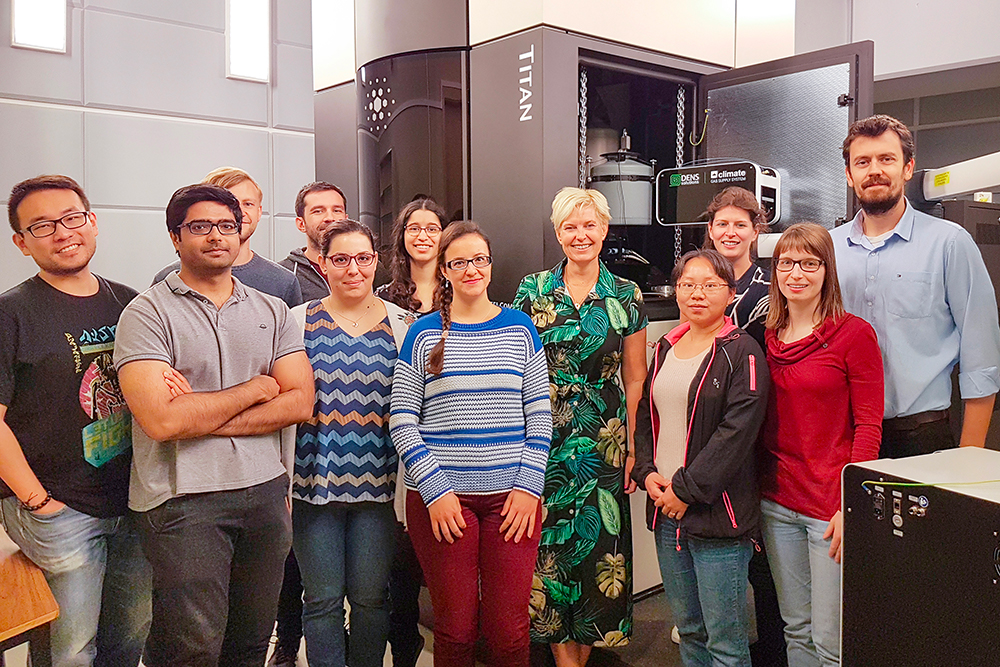 The research team of Sara Bals at EMAT © DENSsolutions