ESTEEM3 at Microscopy Conference 2021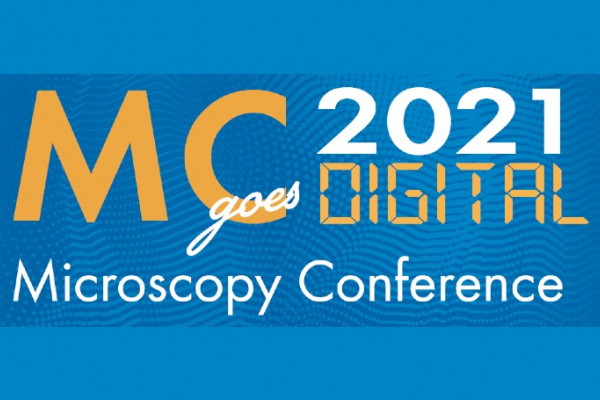 ESTEEM3 will participate in the Microscopy Conference from 22 to 26 August 2021. Due to the COVID-19 context, the event will be held virtually!
The Microscopy Conference 2021, or MC2021, will be held from 22 to 26 of August 2021. For the first time and due to the current sanitary context, this event will be held online.
As a reminder, MC2021 aims at bringing together leading experts and emerging young researchers, highlighting new developments in instrumentation and methods as well as providing a forum for new directions in the fields of life and materials sciences.
Such as in 2009 and 2013, the 2021 edition of the Microscopy Conference will be a combined conference of the Dreiländertagung and the Multinational Congress on Microscopy.
Concretely, the event will be composed of two parts:
The scientific programme will include plenary talks on important current topics. Latest developments in the fields of instrumentation and methods, materials science, and life science will be highlighted by invited talks as well as contributed oral and poster presentations.
In addition, the programme will be complemented by workshops, a digital industrial exhibition, and award ceremonies in conjunction with award lectures.
You can download the full program here.
Moreover, the conference has been jointly organised by microscopy societies coming from more than 10 different countries. Among them, there are:
ASEM - Austrian Society for Electron Microscopy
CMS - Croatian Microscopy Society
CSMS - Czechoslovak Microscopy Society
DGE - German Society for Electron Microscopy e. V.
HSM - Hungarian Society for Microscopy
SDM - Slovenian Society for Microscopy
SISM - Italian Society of Microscopical Sciences
SSM - Serbian Society for Microscopy
SSOM - Swiss Society for Optics and Microscopy
TEMD - Turkish Society for Electron Microscopy
On this occasion, some partners from the ESTEEM3 team will make individual or common presentations. Among the speakers, you will find:
Peter A. van Aken, StEM (Stuttgart, Germany)
Miran Ceh, JSI (Ljubljana, Slovenia)
Angus Kirkland, UOX (Oxford, United Kingdom)
Gerald Kothleitner, TU GRAZ (Graz, Austria)
Etienne Snoeck, CNRS-CEMES (Toulouse, France)
Dieter Weber, JUELICH (Jülich. Germany)
Stavros Nicolopoulos, NanoMEGAS SPRL (Belgium)
Contributions such as lectures, posters, and oral presentations will be available online soon, stay tuned!